BOURNSTREAM play site OPENING.
The play & picnic site will open from Tuesday, 18th May - in line with Government advice on outdoor playgrounds.

NEW JOINERS for 2021 will be limited as we catch up from last year.
Please check our guidance notes below to see our top priorities for places : "Who is Bournstream for?"
We are not going to allow parties or groups (other than small, special school groups in term time) for this season only - to reduce any risk & allow everyone space

As Bournstream is not staffed we must ask all users to follow the guidelines - to take full responsibility - in line with the declaration you made in signing our joining form.
GUIDELINES:
Please bring gloves & antiseptic cleaner/gel for all hard surfaces - gates/padlocks & all toilet areas - before and after use.
Respect other users' space at all times & observe social distancing of 2 metres.
Please restrict your visit to one vehicle only - meaning only one family unit - & for no more than two hours.
No parties, groups or schools class groups will be allowed this season.
If the car park is FULL - only use the lay-by to wait for someone else to leave the play site.
Close, lock and clean all gates immediately behind you.
Please take all wipes, gloves and other rubbish away with you to dispose of.
Contact us via our website contact page with any queries or concerns.
We need everyone to think of others please, to follow these guidelines which have been carefully considered, so that we can re-open for space and play - but most especially so that we can all keep safe and well.
We hope the play site continues to give families and youngsters the freedom they most need.

Thank you for abiding fully by these guidelines.

The Bournstream Trust Committee.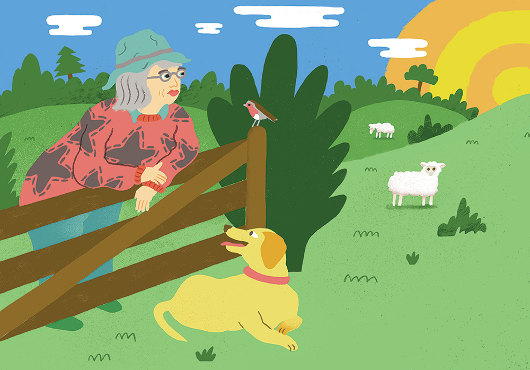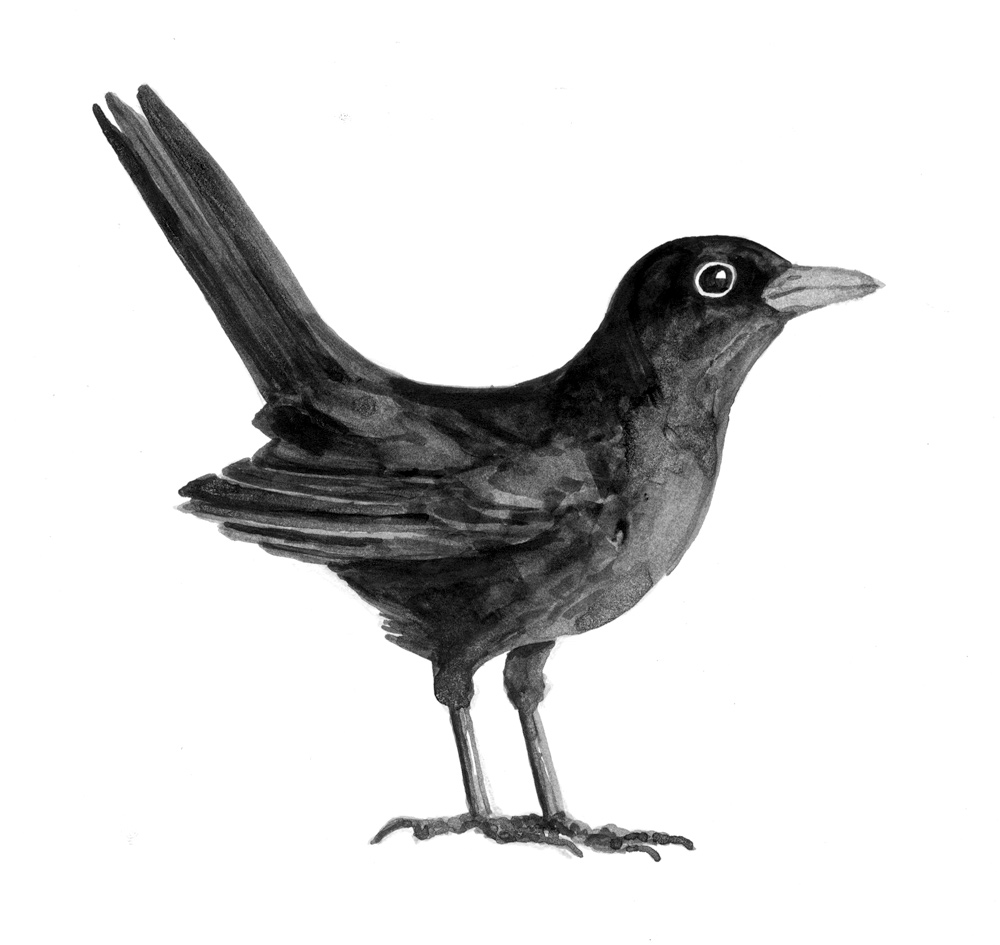 If you want to join
If you wish to join please ring Jinny Rawlings on 01454 238083 and leave her your name, address and contact number.

You will then be sent joining details & our play site rules - after which one of our volunteers will be in touch to arrange to meet you at the play site on a day & time to suit you.
Children are welcome but really need another adult with them please - so that you can see over & fully understand how Bournstream works, as it is not a staffed project. Our volunteer will show you over, answer any questions & complete our joining papers with you.
The one-off membership fee is £10 - payable on the day.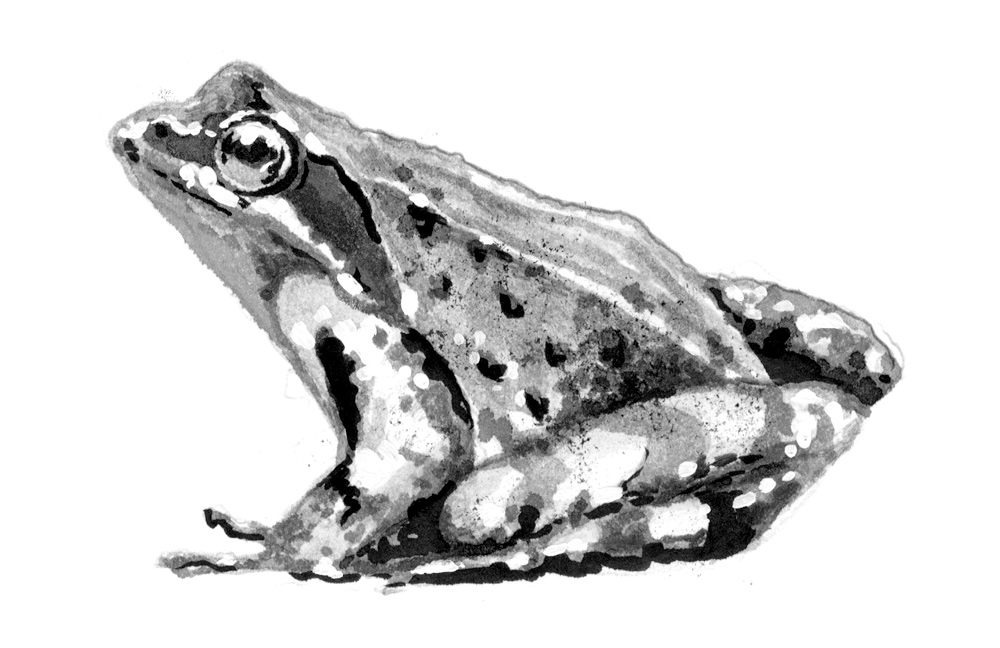 What is Bournstream?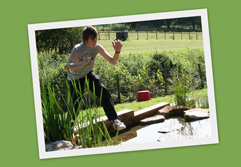 Bournstream is a unique outdoor adventure playsite on the Cotswold edge, roughly between Gloucester and Bristol - half a mile out of Wotton-Under-Edge, set in a hidden valley bordered by fields and woodland.

From the main road there is a locked gate to enter the car park for safety & also an internal locked gate, to enter the play site itself. The play site is open to members from mid-March until the end of November each season. It is then closed for the winter. There are no opening hours as it can be accessed by members whenever it suits them.

It has picnic areas, with tables and benches, toilet house, with changing platform. The playsite also has an extensive pathway for bikes, play vehicles and wheelchairs. It has giant sandpits, a play house, swings, roundabout, slides and a football pitch. There is a climbing wall on the sandpit with rope ladder & wooden climbing frame. There is also a gated, robust water play area with grassy banks and a shaded bench - for paddling, play & peace.
Who is it for?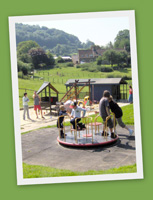 Bournstream playsite is not open to the general public. Its dedicated use is for children and young people with disabilities or special needs - for their families, carers, respite groups and special schools.
I have been bringing children
to Bournstream for many years, and it
always seems to have a calming effect on
some very troubled children; we all love
it, and it gets better all the time.
Who runs it?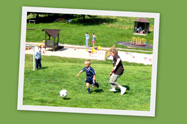 Bournstream is not staffed and is run entirely by volunteers. It is managed by a hands-on Committee (which includes parents of children with disabilities and respite carers), volunteers giving their time, energy and ideas - and with the active support of many local Community Groups.
Why is there a need?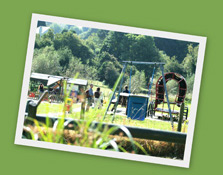 A young father's experience:
"Imagine taking your son or daughter to the local play area... only, your child has special needs, or a disability others will notice.

He or she may not understand about taking turns, playing nicely or even about not running out of the park.

Imagine as a parent the hyper-alertness you have to have to your childs actions.

Sometimes you meet a parent who is understanding... but not always.

You can become insular, not wanting to go out, not taking your other kids to the park because... you fear how it might be... it's just too exhausting to contemplate, too unrelaxing, too unpredictable.

Then you learn that Bournstream exists...

An environment that is safe and secure, in such a wonderful setting, so green and peaceful, so much space and with loads to play on!

At Bournstream, you can be sure that whoever you meet will be understanding, people who are in the same boat as you, and where it seems equally appealing to able-bodied brothers and sisters - as they can have some space and time to play too. You can take a picnic, a football, a book.

All in all, a haven, you should see it!

Bournstream is a place to recharge your batteries - as well as somewhere your children can happily wear themselves out!"
As a group, we have enjoyed
visiting Bournstream Play Area for many
years; and thoroughly appreciated the time,
warmth and love which is put into making,
and maintaining, a lovely place for
children with disabilities.
Hear more about it
Being Safe. Being themselves. Being together.