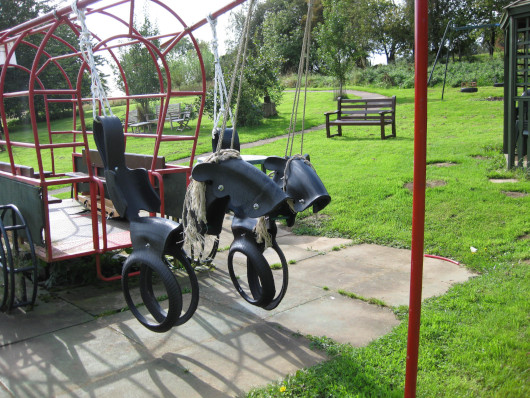 Newsletter for the 2020 season
Welcome to the new season at Bournstream play & picnic site!
We do all hope the space, peace & play opportunities continue to meet your needs for what we have always called "a safe adventure" & many others call "a haven" & "a sense of freedom" amidst all the pressures & challenges.
The play site re-opens from Saturday, 21st March & stays open until the end of November, 2020. Grass cutting usually happens on a Monday, is often very noisy & takes several hours from 10am - so you may choose to avoid that day, as it can prove disruptive all round!
The new padlock code for the 2020 season is "2403" for all the padlocks on site.
Emergency numbers & Sat. Nav. details are displayed on the outside of the toilet house, at the entrance - including Sat Nav for the nearest Minor Injuries Unit, at Dursley - which is open 8am to 8pm every day. We are no longer allowed to have any First Aid kit on site - so groups need to supply their own.
Bournstream has Public Indemnity Insurance, displayed inside the toilet house.
All safeguarding issues remain the sole responsibility at all times of the adult parent, supervising teacher, carer or support worker bringing children or young people to the play site project.
Due to high demand from new families to join, as well as older children having different & challenging needs, we are now asking families, & others, to please end their use of the Bournstream play site at the age of 18 - & move on to more age-related projects elsewhere in the County.
The charity status has always been set to the younger age & so we must respect this aim.
Other ideas can be generated through support groups for teenagers such as Allsorts & Jigsaw - or using new public play spaces such as the Parc project near Wotton.
FOR THE 2020 season please look out for
new fencing & safe access pathway around the water play
a new giant hammock
tree & hedge planting around the site
a new see-saw
more stepping & sitting logs
new small trikes & balance bikes
a colourful new cover on the cowboy wagon
a new roof for the wildlife Hide
a sensory walk way with animal sculptures to explore
Every new season we try to maintain & enhance the play experience for everyone who comes to Bournstream - thanks to the work of our volunteers & the guidance of our hands-on Committee - to keep it all safe & fun!
Repairs have been done here & there - but if you see any problems or concerns then do please message us via the website contact page. As you are far more likely to spot some stuff before we do!
Please remember to put vehicles undercover when you go, to make them last longer for everyone to use, thanks.
Please can everyone read the useful reminders at the top of the NEWS page on our website to save us all a lot of time, money & headaches! (Because Bournstream is not staffed, being run entirely by volunteers, & is so popular & well used we need everyone to help us look after it all please)
Donations or fundraising are always welcome - including the box on site or via the address on our website.
We have a pull-up banner groups can borrow as well as information leaflets.
You can read about the amazing support we got last season on our News page under Thanks.
And we love hearing back from you about what you have enjoyed & any stories or photo's you are happy to share - as other groups we give talks to, or who donate to us, love to hear those stories about who needs to play & what they most enjoy!
We hope you can find a good time (& weather!) to explore and enjoy Bournstream soon.
Mark Pasco
Chair & volunteer
for the Bournstream Trust Committee
February, 2020
Being safe. Being themselves. Being together.