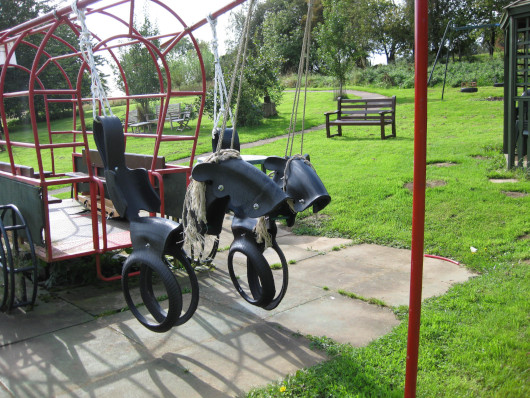 Newsletter for the 2021 season
Everyone at Bournstream sends their best wishes for a healthy & happy year ahead!
Our 2021 season opens from Tuesday, 18th May onwards - when the new season padlock code will be "1939."
As we will still be under some Covid restrictions all the guidelines on our website "home" page will still apply please.
Grass cutting will still happen every other Monday, roughly 10am to 4pm - so you may want to avoid that day!
We can welcome special school groups back, in term time, but have decided to play it safe over possible numbers by having to say no to birthday parties or other larger groups for this season only.
We must thank the Barnwood Trust for their ongoing support by funding our new mower for this coming season, Cotswold Tyndale Rotary for sponsoring a month's grass cutting & a big thank you to Renishaw Plc for help with our overall running costs.
Also, our thanks go to the Wotton Lions Club & Wotton Roundtable for all their hard work & support.
Plus, Ian Pullen for yet more wood bark & play sand too!
Special thanks from last season - for their generosity & encouragement - go to Sam Watts for his sponsored walk & enabling us to commission Andy O'Neil ( of Wild Wood carving ) to make Terry-the-tortoise! Andy also donated three oak hedgehogs, for you to find, & a beautiful leaf-shaped seat.
These all live near the upper play house - when you explore - near to the wildlife mural which the Bristol artist, Dave Bain, has restored. It shows all the birds & animals who share Bournstream with us.
Sam's donation also bought our latest giant hammock for relaxing under the cherry trees!
We must also hugely thank the Ewing family for their amazing, family donation to the play site - which we used to replace the daring crossing bars over the water play! Also, for loads of bird nesting boxes & a new, mystery wood carving to discover?
"How beautiful Bournstream is - & such a peaceful, safe place for so many of us. And I just want it to keep on being there." Louise.
One of our loyal volunteers, Iain & his son Rory, have made & donated many of the other bespoke nest boxes for robins, blue tits & tree creepers. Do try to spot them - & their parent birds coming & going! And may be bring your binoculars & notebooks to list them all?
IF you couldn't get to Bournstream in the shortened 2020 season, then you will also find a new see-saw, decorated wagon cover & a new, giant green hammock!
USEFUL REMINDERS:
Do please check our Covid guidelines before next coming - both over precautions & certain restrictions, like limiting your time & sticking to one car per family only please.
Lock all gates immediately behind you - & don't let children play with the cable padlocks.(see note below on damage)
Take all your rubbish away with you please - including nappies & other litter.
Put all play vehicles away under cover.
Please report any damage, padlock problems or any other concerns via our website - it helps us to know.
PARENTS TIP:
You may want to consider wearing a "sunflower lanyard" (showing a hidden disability for your child) to raise awareness when out and about. They are free & with no need to prove a disability. Google "sunflower lanyard" for more details. Sometimes it can be a public sign when others need to be more patient and understanding.
DAMAGE & extra cost:
Last season we suffered flooding in the toilet house, sabotaged padlock codes & a badly bent hammock stand.
All these may well have been due to inadequate supervision & have cost us money to repair or replace.
Please look after Bournstream - as we do - for everyone to enjoy safely whenever they come.
FUNDRAISING:
Last season we had a 'short fall' of about £1500 (on our usual donations/groups/joining fees) so please support us in any fundraising you know of - or mention our project to possible sponsors please.
We have leaflets & a pull-up banner we can let folk use to fly the flag at events - if you just ask us about borrowing it!

Shop on AmazonSmile at https://smile.amazon.co.uk/ch/297220-0, and Amazon donates a small percentage to Bournstream Trust For The Disabled, at no extra cost to you. It all adds up - as does Gift Aid on personal donations.

Or you may choose to support us this season with a donation yourselves - our Lloyds Bank account is 02622431 & sort code 30-98-29. Please title it "2021 appeal" so we can keep tabs. Many thanks if you can help.
"Thank you for being there." Louise.
Thanks for catching up by reading all this and sending you our best wishes, we can't wait for you to be able to come back to play together!
Mark Pasco & Sarah Cam
Chair
Secretary for the Bournstream Trust
February, 2020
Being safe. Being themselves. Being together.